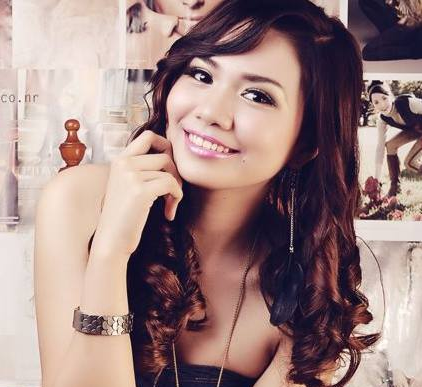 I am Donna. Registered Nurse. I am so much in love with music. I adore everything about fashion. Thank you for visiting my site. Comments are highly appreciated.

Email me at donnakrizel@gmail.com.
Wedding is one, if not the most memorable "save-the-dates" on our calendar. Are you one of the many soon-to-be brides this year? If yes, then surly you're in the moment of choosing what to get and what's not in your wedding plan list. First and foremost, ever soon-to-be brides would want something unique and adorable for her gown. Find your perfect gown among the beautiful collection of Wedding Dresses at TopWedding.com. Photos below are some of the dresses you might consider of having soon.
First, is the Scoop Neckline Sheer Long Sleeved Satin Wedding Gown With Flower Decor. This design is perfect for a Chapel/Church and Hall/Indoor wedding venue. It has a very elegant and luxurious style which is highly noticeable. Choose this gown if you don't want to reveal too much skin during your wedding day. This also helps to cover and create an illusion of a smaller arms. Today, long lace sleeves gowns like this will never look odd, but gives a sexy look instead. The gown has beading flower embellishment which adds class.
The refinement of a fit bodice and a flattering full skirt is superb. This one has a bateau neck, long sleeves feature and the bodice made of lace. It is topped floral garnishes big and small to make the vintage motif visible. It has a thin sash on the waist and a lavishly flared skirt with a court train. -topwedding.com
Second is the Sweetheart Mermaid Wedding Dress With Beaded Waist And Side Split. This gown is perfect for a Garden/Outdoor and Hall/Indoor wedding venue. The design is very chic and modern. The folds and shape of this dress gives a good work on emphasizing body curves, thus making the bride look sexier. Pick the most beautiful veil among the Wedding Veils collection for a more stunning look.
The spectacular effect of organza in apparels is attraction itself. This wedding dress with a sweetheart neck is crisscross pleated on half of the bodice and diagonal creased on the lower half. The folds are separated with embellished sash to give definition. It is crafted tiers at the skirt to promote a stunning design. -topwedding.com
Third is the Sweetheart Embroidered Satin Ball Gown With Pick Ups which is very suitable for Chapel/Church and Hall/Indoor wedding venues. Who says ball gown is overrated for a wedding dress? This elegant and luxurious type of gown will kick off the day! It is a princess-type gown with a sweetheart neckline and perfect pieces of embroidery.
Thrill all the way down the aisle with this ravishing looker. Featuring a sweetheart neckline and embroidered bodice, sexy will be an understatement for any bride wearing this. The beautiful pick up style details on the ball gown skirt and the elegant cathedral train gives this piece a dramatic feel. -topwedding.com
You might want to check out some of the Flower Girl Dresses as well. These little dresses are perfect for the little girly kiddos! These are very feminine and ladylike yet give a stunning and dazzling visual effect appropriate for kids.
Most of the us wanted to have the dream wedding that we want. It includes the wedding gown to wear and the accessories with it. I find it very interesting if the couple look elegant and gorgeous. People always look at the bride's shoes, gown, and accessories. But we also notice what men wear during this occasion. This mens platinum wedding bands may help them look at their best.
Another instrument that a lot of people wanted to learn is Ukulele. It produces beautiful melody like guitars. It is actually almost the same with guitars because it s also a string instrument but the sound of Ukulele is unique. One may find a hindrance in playing the instrument that they love if the individual is left handed. Most of the instruments are designed for right handed. This left handed ukulelewill really help a lot of people pursue the thing that they want.
Guitar also caters up beat sounds. You can actually convert the sound into different types of music. You may choose pop style, rock or more on the up beat sound. The melody may vary with the different styles made for the specific guitar. I personally prefer more on the up beat sound because this may help me brighten my mood. This korg volca beats at guitar center is the best for me. It gives me the excellent quality of sound that I want.
As a person that does know how to play guitar, I know the problems involved to this hobby. If the instrument is out of tune, the guitarist must correct it right away. Since most of the individuals who know how to play guitar are knowledgeable in getting the instrument back in tune, they are the one who fix it as well. Another problem may encounter if the nylon or string does not have a good quality. This may result of unclear sound. I know this cool cordoba c5 nylon rhat can help us with this issue.
The most common instrument that the people know how to play is guitar. Since then, individuals are interested to learn how to play it because of the influence of the older generations. People love to listen to music and play songs. Playing an instrument can also serve as a pastime and promote bonding through singing with friends. It is better to play an instrument with the best sound quality. I recommend this yamaha a3r guitar which will make the melody more beautiful.
Being able to produce good music makes the people happy and entertained. Some of the instruments that the individuals have do not create beautiful harmony to each other which will eventually compose noise. This also happens to the speakers nowadays. Having an average of maybe bad quality speakers can create noise instead of melody. I discovered this Genelec Speakers which can produce the best sound quality that will last for a long time.